Manju


I met her on a Christmas day. No, it was not a campus love ! That was a traditional bride meeting interview at her house in presence of our parents.

After she walked into my heart on Dec 25th, 2001, it was a pretty long wait. I had to take an onsite assignment to USA. After I returned from USA, we got engaged at St Antony's church, Kizhakkambalam on April 7, 2002.

And finally, the greatest moments of life - our marriage was blessed at St. Thomas Church, Malayattoor on 21 April, 2002.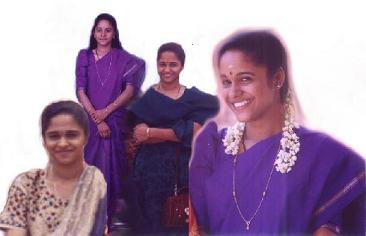 Life after marriage

The first 1 year, I was too busy with my tight project schedule with Microsoft India as a consultant. 12 hours a day and 6 days a week in office - we went through the worst of our life. I can never forgive that manager who said those words "even if you work for 16 hours a day, still there is 8 hours to sleep !!". That was the end of my relation with Microsoft India as a consultant.

A year after marriage, I joined Digital GlobalSoft India (now, Hewlett Packard) and I moved to USA for a long term onsite assignment. Manju and our new born John joined me in USA in November 2003.